DTC News features stories and news relating to the ITU Digital Transformation Centres (DTC) Initiative, including news on specific activities and digital skills trainings conducted by the DTCs, as well as news from partners and other stakeholders. If you are interested in keeping up-to-date with the DTC News, we invite you to visit this page regularly and check the issued newsletters featured further below on this page.
DTCs are invited to submit stories on their digital skills training and related activities to dtc@itu.int
DTC-Indonesia concludes a 2-week train-the-trainer programme on Cisco Networking Academy basic digital skills programme
From 11 to 22 September 2023, BPPTIK conducted a training of trainers on basic digital skills programmes of the Cisco Networking Academy, with support from ITU and Cisco. The training was held virtually on the first week and face-to-face on the second week, at BPPTIK training centre in Jakarta. In total, 60 trainers, including 24 women, attended the training and were divided into three groups to maximize learner-instructor interaction over the course of the 10-day programme. Participants were introduced to the Cisco Networking Academy system and were trained on how to deliver effective face-to-face and online digital skills training to citizens, considering the connectivity and device limitation of users, particularly those living in remote areas.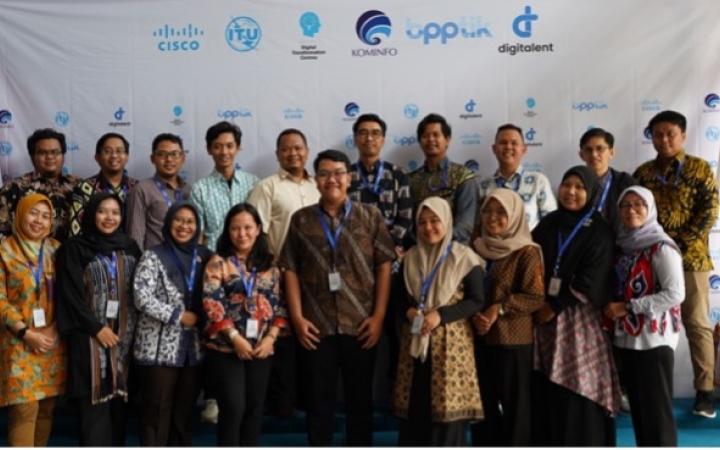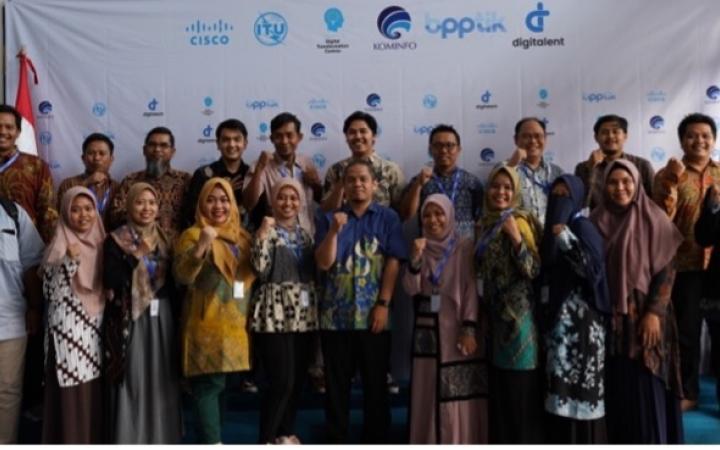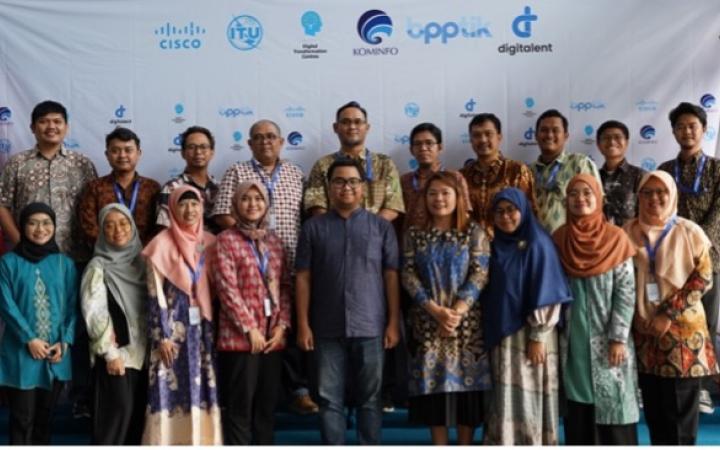 © BPPTIK
Facilitators of DTC-Dominican Republic get trained on HP-LIFE programme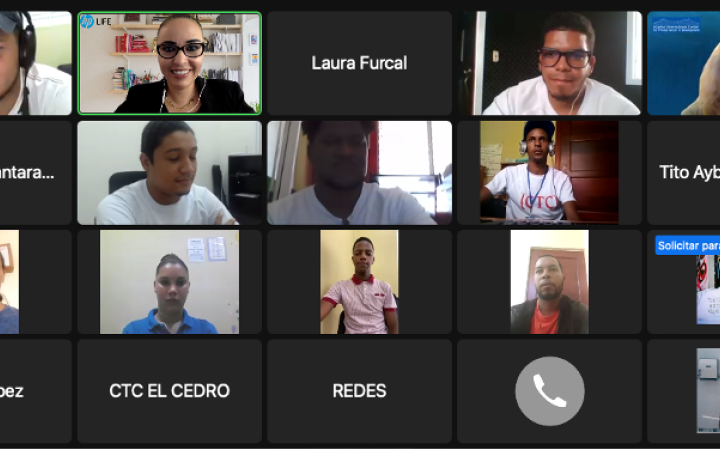 © UNDP IICPSD
As part of their collaboration under the DTC Initiative, ITU and the UNDP Istanbul International Center for Private Sector in Development (IICPSD) co-organised train-the-trainer sessions on the HP-LIFE programme for facilitators of "Centros Teleológicos Comunitarios" (CTC), the DTC in the Dominican Republic. The training was conducted virtually on 18-21 September in Spanish language and brought together 22 (16 male, 6 female) trainers and managers from local training centres. As the DTC in the Dominican Republic already has proven experience in using and delivering HP-LIFE courses as part of its training offering, the HP master trainer convened participants for a brainstorming session prior to the training to take stock of their specific needs and tailor the programme accordingly. 
Sessions focused on the tools, techniques, and best practices to deliver the programme, particularly the courses on entrepreneurship skills, communication, and soft skills in leadership and provided an interactive platform for participants to engage in simulation exercises and presentations. Most attendees expressed interest in continuing the process through deep-dive trainer sessions, to be held within the next months.
ITU signs a Joint Declaration with Indosat to strengthen capacity and digital skills development in Indonesia under the DTC Initiative
A Joint Declaration on strengthened collaboration in the field of capacity and digital skills development between Indosat (PT Indosat TBK) and the International Telecommunication Union (ITU) was signed on 13 September 2023 by Dr Cosmas Luckyson Zavazava, Director, Telecommunication Development Bureau and Mr Vikram Sinha, President Director and CEO, PT Indosat TBK. 
This collaboration aims to strengthen digital literacy and skills of citizens in underserved communities, and promote digital inclusion in Indonesia, with particular focus on the Digital Transformation Centres (DTC) Initiative, which supports countries to develop the capacities and digital skills of their citizens.  
The Declaration builds on the takeaways of the ITU-Cisco DTC Workshop for Telecommunication companies, during which participants discussed joint projects and support modalities to effectively engage telecommunication companies in the work of the Digital Transformation Centres and the overall Initiative.  
The signing ceremony took place during the ITU Regional Development Forum for Asia and the Pacific, held in Bangkok from 13 to 15 September 2023.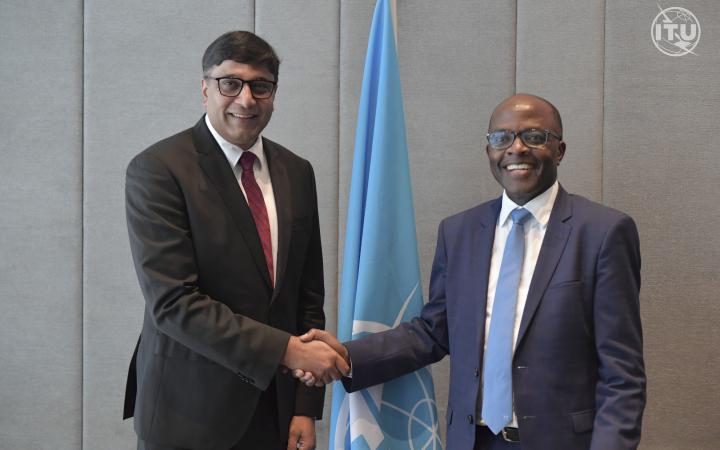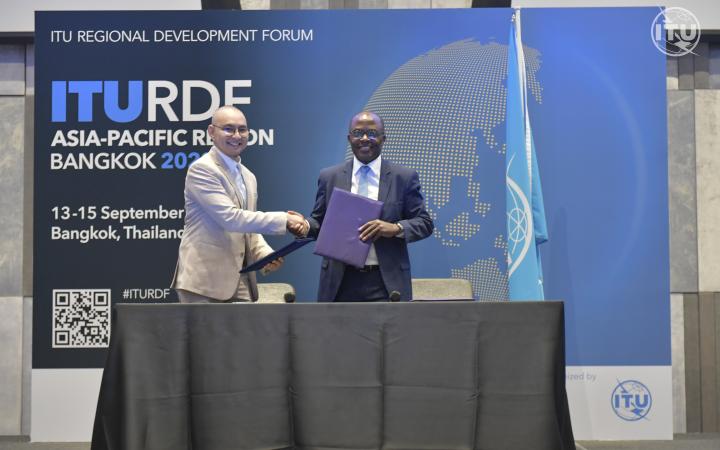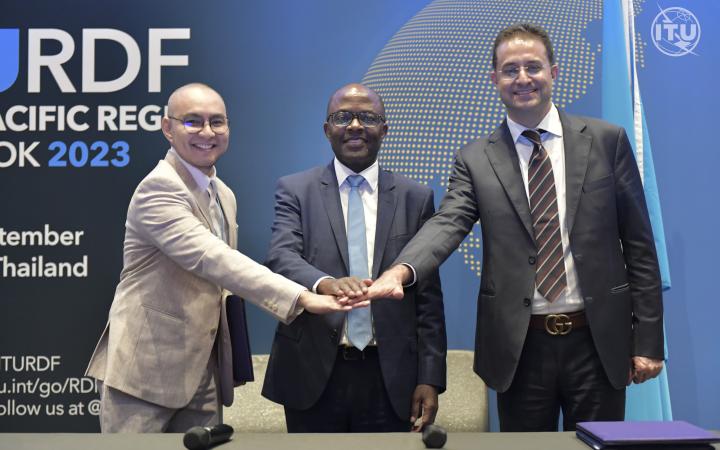 © ITU
ITU brings together DTC trainers and managers to enhance their delivery skills on Microsoft Digital Literacy and Productivity content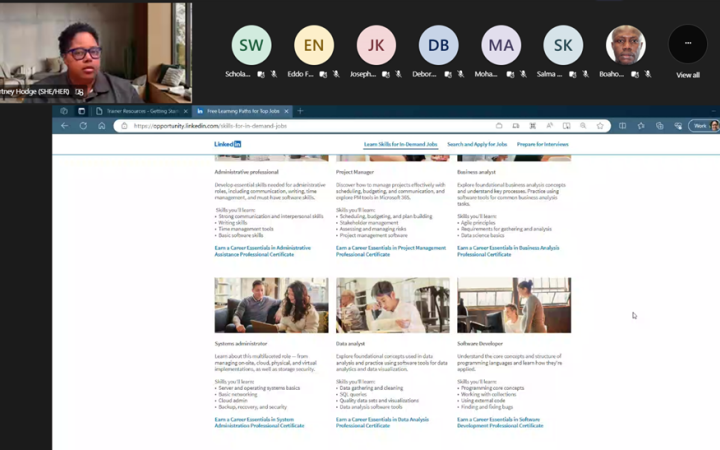 On 22 August 2023, ITU and Microsoft co-organised online information sessions on "Digital Literacy, Productivity and M365 teacher resources" under the Digital Transformation Centres Initiative. ITU convened the session as a response to the Digital Transformation Centres (DTCs)'s expression of interest in incorporating content and tools from Microsoft into their training offerings. More than 60 trainers and centre managers from 12 DTCs were introduced to the Microsoft learning pathways and trainer resources, with a particular focus on course structure and delivery approaches. Sessions included interactive polls through which participants shared their preferred topics and teaching methods. Most attendees (over 74 per cent) indicated a stronger interest in the content on digital literacy and M365, while others shared initial ideas on how they plan to train citizens within their communities.
DTC-Zambia brings stakeholders together for a workshop on the DTC Initiative in Ndola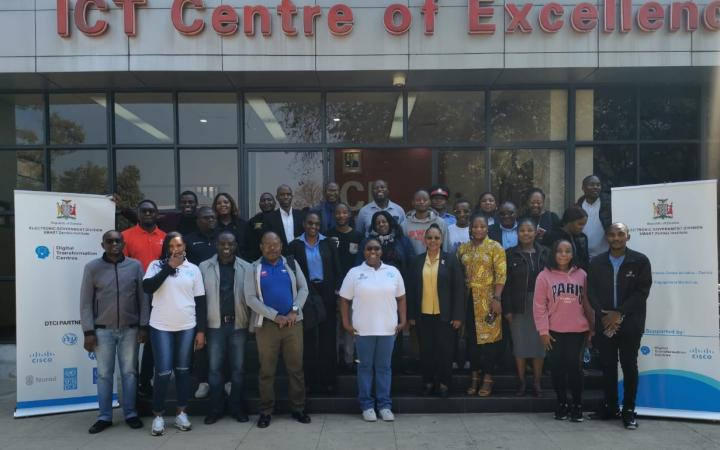 © SMART Zambia Institute
On 28 July 2023, SMART Zambia Institute (SZI) conducted a stakeholder engagement workshop on the implementation of the Digital Transformation Centres Initiative in Ndola, Zambia, with the support of ITU and Cisco. The workshop was organised to raise awareness on the DTC Initiative, propose strategies for collaborative stakeholder engagement and to define the specific responsibilities of stakeholders in implementing activities under the DTCI. Discussions touched upon current challenges faced in the implementation of the Initiative and how to address these gaps through strategic partnerships and increased stakeholder involvement. The event brought together stakeholders from various ministries and government agencies, as well as representatives of telecommunication companies and institutions of higher learning. Representatives of Cisco and ITU participated in the session remotely.  
DTC-Philippines organises a train-the-trainer activity on the Cisco Networking Academy
From 19-21 July 2023, the Department of Information and Communication Technology (DICT) of the Philippines, with support from ITU and Cisco, conducted a training-the-trainer course on basic digital skills, in General Santos City, Philippines. The activity brought together 70 designated trainers who support the DTC Initiative at the regional level and was delivered by Cisco-certified instructors. Participants were trained on how to manage and navigate the Cisco Networking Academy and deliver effective online and offline digital skills training.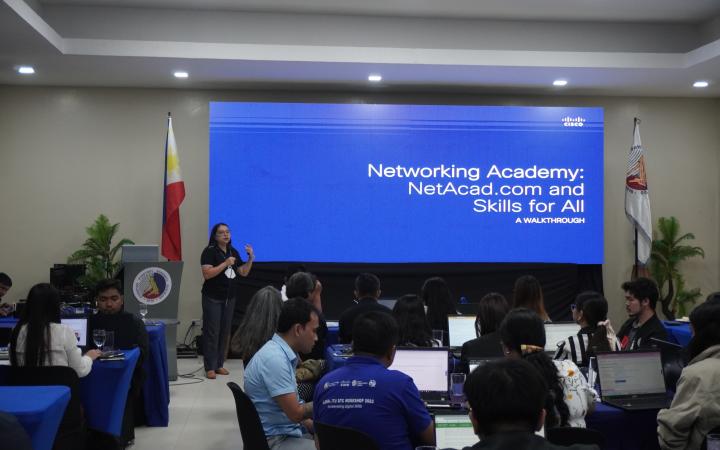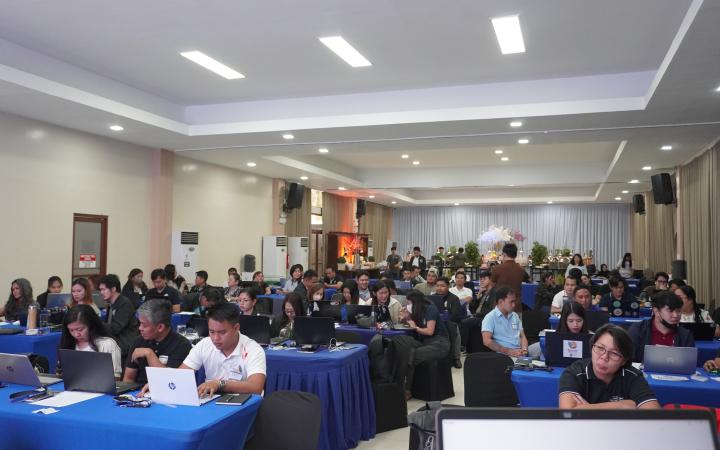 © DICT
DTC trainers and centre managers enhance their knowledge and delivery skills on the HP-LIFE programme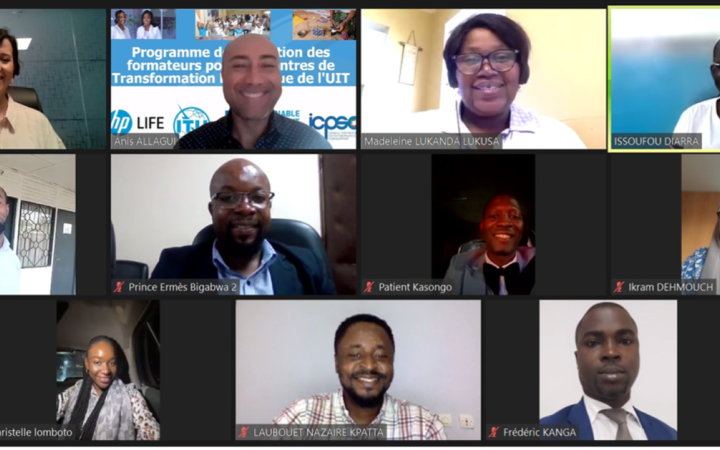 © IICPSD
In July 2023, ITU and the UNDP Istanbul International Center for Private Sector in Development (IICPSD) co-organised a number of train-the-trainer sessions on the HP-LIFE global training programme, as part of ITU and HP's collaboration under the Digital Transformation Centres (DTC) Initiative.
The training was conducted online over the course of three weeks and followed a 3-hour orientation session held in March 2023. Separate sessions were held simultaneously in English and French to accommodate DTCs from both English-speaking and French-speaking countries.
During the sessions, 28 trainers and training centre managers from 10 DTCs were able to gain practical know-how to deliver the HP-LIFE programme on ICT and business skills. Master trainers from HP covered topics ranging from ICT-enabled entrepreneurship to communication and presentation skills and invited participants to reflect on effective ways to deliver those courses within their centres and adapt their teaching approach to the needs of their beneficiaries.
At the end of the training, participants took part in a final simulation exercise to showcase the pedagogical tools, facilitation techniques and soft skills learned during the programme. As a next step, they will be responsible for gradually incorporating the HP-LIFE programme into the course offerings of their respective DTCs.    
CEOs of Telecommunication Companies commit to accelerating digital skills during Mobile World Congress
The International Telecommunication Union and Cisco co-organized an Executive Roundtable discussion on the Digital Transformation Centres Initiative (DTCI) during the Mobile World Congress in Barcelona, on 28 February 2023. 
The session introduced the DTCI and aimed to lay the groundwork for the establishment of a global partnership where telecommunication companies come together and commit to supporting digital skills development and digital inclusion in underserved communities, under the Initiative. 
The Roundtable brought together CEOs of Telecommunication companies from Africa, Arab States, Asia-Pacific and Europe and provided an opportunity for them to share on-going initiatives aiming at fostering digital literacy in communities and connecting underserved areas.  
Participants highlighted the need to strengthen digital skills at the basic and intermediate levels and to build the capacity of trainers and teachers. Discussions also focused on inclusive approaches to reach target beneficiaries such as women, youth, rural populations, Persons with Disabilities and other vulnerable groups.  
As a follow-up to the Roundtable, ITU and Cisco are organizing a Global Workshop, to be held in Geneva from 30 May to 1 June 2023. The workshop will serve as a platform to continue the dialogue on joint projects and support modalities to effectively engage telecommunication companies in the work of the Digital Transformation Centres and the overall Initiative.
Ghana's underserved rural communities get a digital skills training boost
Abdulai Asana's ambition of creating visibility for her bakery business online led her to participate in the digital skills training programme organised by Ghana Investment Fund for Electronic Communications (GIFEC) earlier this year in Yendi, Ghana.  She plans to use her newly acquired skills to grow her new pastry business.
The training programme was part of the ongoing 'Boosting Digital Skills' project, which, through the Digital Transformation Centre Initiative (DTCI) funded by NORAD and the International Telecommunication Union (ITU), aims to serve citizens like Asana living in Ghana's underserved rural communities. Read more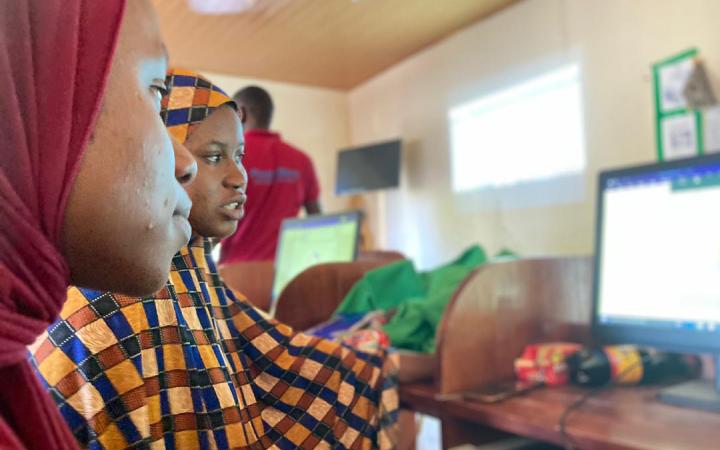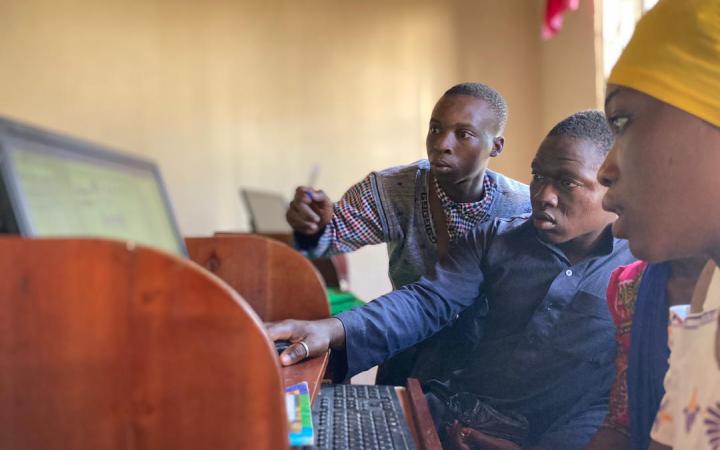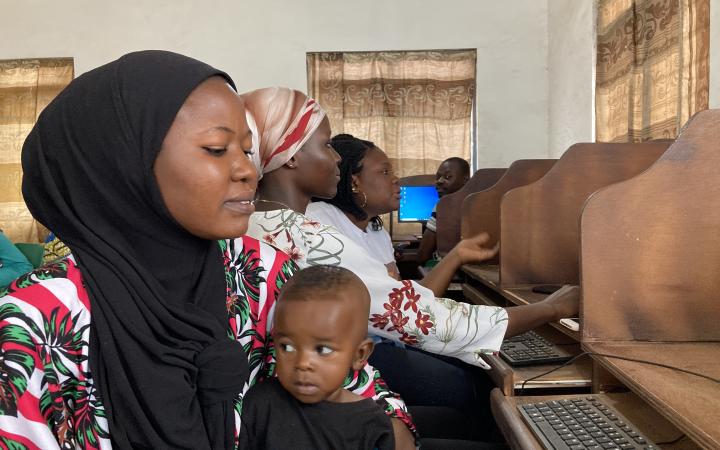 Launch of the Digital Transformation Centre in Ethiopia
The Digital Transformation Centre (DTC) in Ethiopia was launched on 9 May 2022, in Addis Ababa. The event, which was officially opened by the Minister of Innovation and Technology, H.E. Belete Molla, was attended by 55 people from universities and training institutions that will support the DTC as training delivery partners, as well as UN Agencies, development partners, private sector and non-governmental organizations.
In her opening remarks, Ms. Anne-Rachel Inné, Director, ITU Regional Office for Africa, emphasized the importance of developing digital skills for people in marginalized and underserved communities as part of building an inclusive digital society.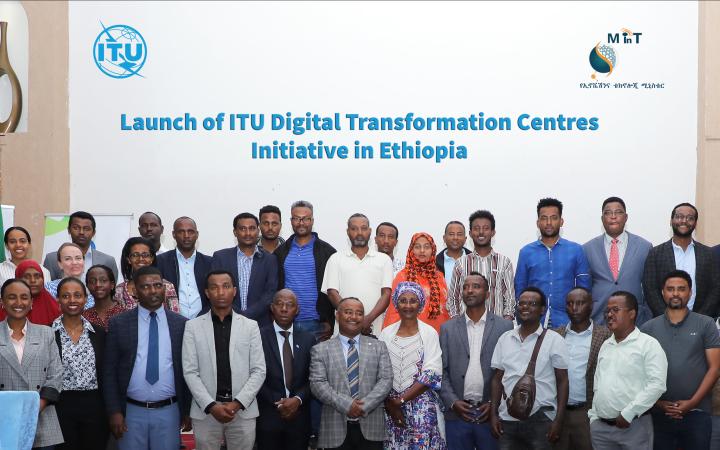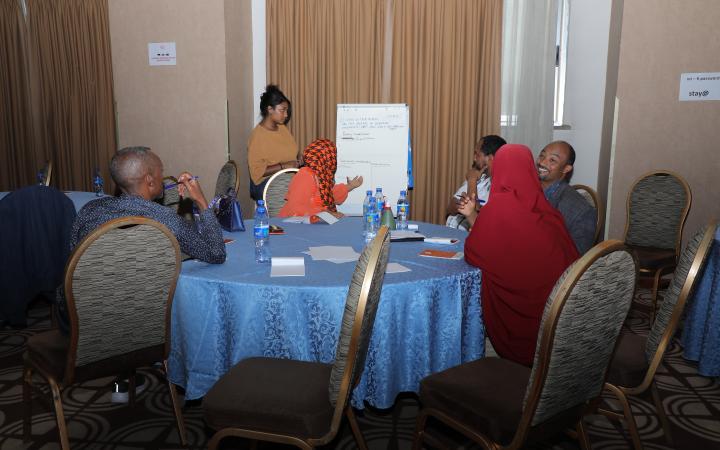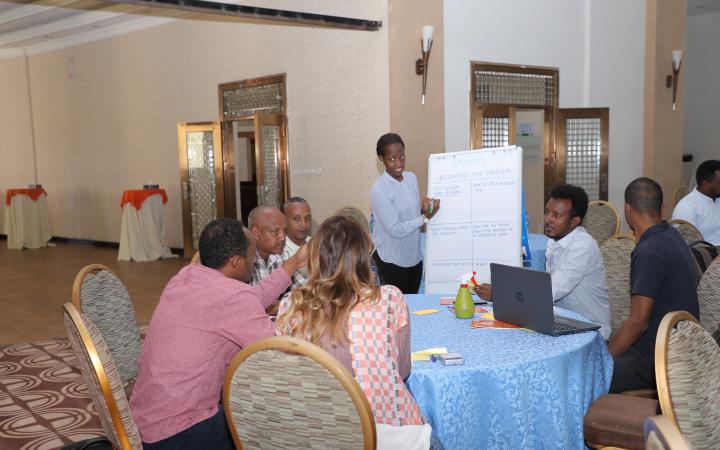 Developing new skills to help transform a nation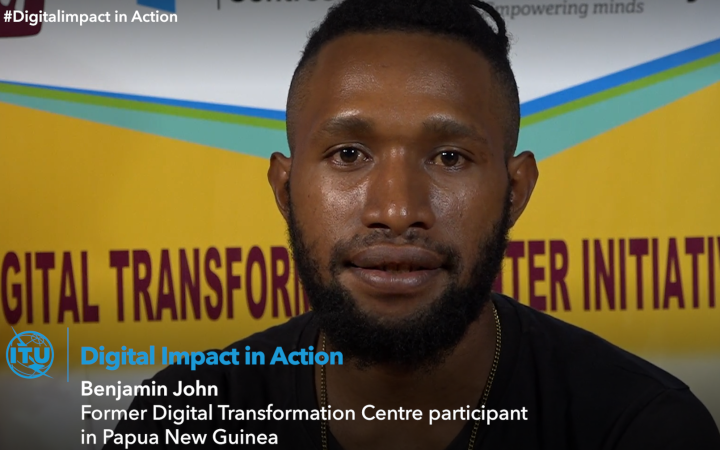 New digital skills helped Benjamin John find a job. Now he hopes to help others participate in Papua New Guinea's growing digital economy.
Read more about Benjamin's Digital Impact in Action story here
ITU and its partners deliver digital skills training to girls in underprivileged communities in Zambia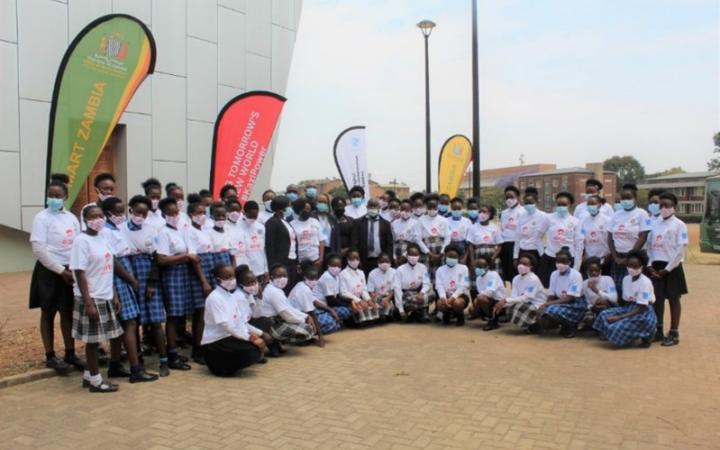 ITU together with its partners, Cisco, Smart Zambia Institute and Airtel Zambia, joined forces to deliver digital skills training to 150 girls in underprivileged communities across three provinces in Zambia.
The training was delivered under the ITU Digital Transformation Centres (DTC) Initiative and rolled out in three cohorts of 50 girls each, taking place in Lusaka Province (27 September – 6 October 2021), Southern Province (10 – 19 November 2021) and Copperbelt Province (1 – 10 December 2021). It is designed to equip the girls with basic and intermediate digital skills, inspire them and make them understand the opportunities and benefits of undertaking technology studies for their future careers.
The training took place in the premises of the National Institute of Public Administration (NIPA) and was specifically tailored for a young audience, with some of the girls that had never used a computer before. The training covered a range of topics starting with the basics of how to use a computer and basics of hardware and software, to the introduction to Internet of Things (IoT) and cybersecurity.
The training was designed to create a path for development for the girls, therefore the top 5 girls of each group will have the opportunity to access more advanced training. Thanks to the partnership with Airtel Zambia, they have already benefitted from mentorship programmes held in Airtel's premises.
This has been a wonderful experience as we have learnt so much. Inspired by the slogan 'KAZIpower' (girl power), we look forward to having more opportunities like this in the near future and hope that many more girls in Zambia will get to experience what we have experienced, emphasized one of the girls after the second training in Livingstone, Southern Province.
Share in