The Quality of Service Training Programme comprises of an overview module, 6 obligatory and 7 elective modules. The overview module provides a brief summary and introduction to each module of the training programme. The obligatory modules are prerequisites to the elective level modules. The elective modules provide students with a much greater depth of understanding and more practical experience in each subject area.The QoSTP consists of a set of high level training materials and covers a range of topics in Quality of Service. This programme establishes itself as the global "golden standard" for QoS training.
For more details on the programme, see the full report below:
The QoSTP comprises 13 modules: six obligatory and seven elective. These are the following:
OM1 Introduction - Quality of Service and Quality of Experience
OM2 Subjective assessment of voice quality
OM3 Objective assessment of voice quality
OM4 QoS and QoE for Multimedia and assessment methods
OM5 Regulatory Aspects of QoS
EM1.1 Telephonometry
EM1.2 Network performance and OAM for performance measurement
EM2.1 Hands-free communication and user interfaces in vehicles
EM2.2 Traffic management
EM3.1 QoS for mobile services
EM3.2 Bitrate measurement of Internet connections
EM4.1 Deployed QoS Management Technologies
Target audience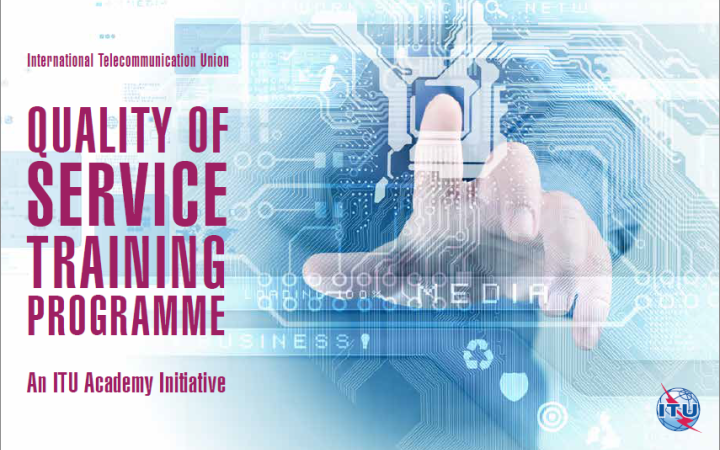 The QoSTP course is designed for anyone who would like to enhance their professional knowledge while working in the field of QoS - from national regulatory authorities to companies  operating in wireless communications or equipment manufacturers. The QoSTP would be oriented towards the broadening of skills in the complex field of QoS; therefore it could be taken by any professional who has previously graduated with a first level university degree (Bachelor of Sciences).
As such, the students entering the QoSTP may be from different institutional levels, from technical to managerial, and from different backgrounds (engineering, economics, legal, etc.).
Call for partners
We wish to invite all stakeholders in the domain of QoS to participate in this undertaking. In return, ITU would acknowledge the contribution of the partner/s in the use and delivery of the training materials. The ultimate aim is to have an ITU certified programme that can be delivered through various channels, such as Centres of Excellence and academic and other institutions. Therefore, different ways of collaboration can be explored. Individuals, organizations and academic institutions who may be interested in cooperation with the ITU Academy on delivering QoSTP are welcome to contact the coordinating entity – Human Capacity Building Division at hcbmail@itu.int and express their interest.
Share in