DTC News is a bi-monthly newsletter featuring stories and news relating to the ITU Digital Transformation Centres (DTC) Initiative, including news on specific activities and digital skills trainings conducted by the DTCs, as well as news from partners and other stakeholders. Each issue of the newsletter will feature an in-depth coverage of the activities of at least one DTC.
DTCs are invited to submit stories on their digital skills training and related activities to dtc@itu.int
ITU and Norway launch partnership to support Digital Transformation Centres Initiative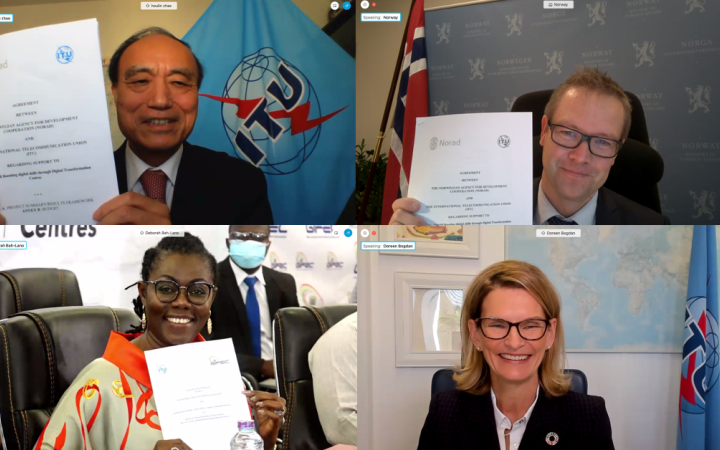 On 12 November 2020, the International Telecommunication Union (ITU) andthe Norwegian Government signed an agreement to support the ITU Digital Transformation Centres (DTC) Initiative. The new project with Norway will scale up and strengthen digital skills training at basic and intermediate levels for underserved communities in particular in Ghana, in collaboration with Cisco and the Ghana Investment Fund for Electronic Communications (GIFEC). Under the agreement, over 14'000 citizens in Ghana, including women entrepreneurs, students, teachers, and marginalized groups will be equipped with job-ready digital skills to access and gainfully use digital tools and services.
This partnership with Norway will assist Digital Transformation Centres to accelerate building an inclusive digital society and to ensure that lack of knowledge and skills is not a barrier to participation in the digital economy. This will contribute towards the achievement of the Sustainable Development Goals. 
Share in